I've just gone through and deleted a whole lot of old posts. They made me cringe. How do I manage to utterly misrepresent myself?
A lot has happened since I last wrote here. My beloved cat Pia died, rather suddenly, after succumbing to advanced kidney disease. I miss her every day.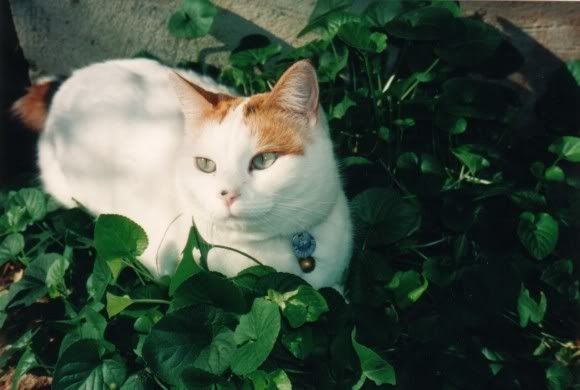 Marcie, her mother, seems to be coping well. She enjoys the extra attention, but she does seem to get lonelier when I'm out and away.
I also have a new job, four days a week. My scholarship ran out. I dislike the job and what it's doing to me so much that I won't mention any more about it. It already takes up way too much of my energy and time.
Here is a photo of me taken by my (newish) boyfriend:

I'd post a pic of him, but I don't have any uploaded to photobucket yet. He likes to take photos, rather than be in them, even though he's a lovely looking creature! (A, I know you're going to read this!)
Composition update: Pope Joan is long finished, my second piece, based on advertising samples, called 15 Seconds, is also done. I'm just working on my third and final piece, then I have to complete the critical commentary, complete all the presentation aspects, and submit the bloody work!
It's only taken a full year longer than I expected. It's been an interesting, eventful time.
Knitwise (haha) I've progressed a long way with my skills. I've finally finished that damned purple cardigan, and it's way too big. It's no problem, as I've finished another cardigan that is wearable and countless other things. I'm excitedly waiting on a yarn delivery from handpaintedyarns.com... to knit a clapotis, of all things.
I may even be able to post some pics of these knitted things online, if I can cajole A into taking pics of them for me.